'RE:GENERATIONS' Links Top Hip-Hop, Pop, Latin, Reggae and Rock Artists With the Genius of Nat King Cole
'RE:GENERATIONS' Crew Includes The Roots, Cee-Lo, will.i.am and Natalie Cole, Brazilian Girls, Cut Chemist, Just Blaze, TV On The Radio and Many Others
Capitol/EMI to Release CD, Digital Album and Vinyl on March 10, 2009
Campaign Launched with Mural Art Project on Capitol's Historic Hollywood Lot
HOLLYWOOD, Calif., Nov. 20 /PRNewswire/ -- During the past several months, Nat King Cole has virtually been in the studio and on the MIC with some of the most talented Hip-hop, Latin, Reggae and Rock artists and producers of the day. Capitol/EMI and King Cole Partners & Productions (http://www.natkingcole.com/) are proud to announce the March 10, 2009 CD, digital album and vinyl release of an inspired new recording entitled RE:GENERATIONS. This landmark recording with a cosmopolitan flavor celebrates Cole's musical and cultural contributions as reinterpreted by some of this generation's most creative artists.
RE:GENERATIONS aims to construct a tuneful bridge between generations, cultures and races. Evocative of a sleek and stylish metrolounge where music and the visual arts converge, RE:GENERATIONS honors Nat King Cole's continued cultural influence around the planet, 90 years after his birth.
Executive Produced by Carole Cole and Michaelangelo L'Acqua, the album contains the manifold talents of Cee-Lo, The Roots, will.i.am with Natalie Cole, Cut Chemist, Just Blaze, Nas with Salaam Remi, Souldiggaz with Izza Kizza, Michaelangelo L'Acqua with Bebel Gilberto, Stephen and Damian Marley, Bitter:Sweet, Brazilian Girls, Amp Fiddler and TV On The Radio. RE:GENERATIONS is as much a colorful and culturally-diverse soundscape as it is a 21st Century journey in the lexicon of Nat King Cole's catalog.
In an altogether modern and collaborative approach, many of the world's most pioneering musicians, producers and DJs have joined together to bring each of their distinct styles to 13 of Cole's outstanding recordings for RE:GENERATIONS. Also, several respected Los Angeles visual artists have drawn inspiration from Cole's music, style and cultural influence to create custom artwork for the release.
Says Carole Cole, Nat King Cole's daughter and CEO of King Cole Partners & Productions, "As the curators of our father's music, image and likeness, my sisters and I strive to keep Dad in the mix and as innovative as he was back in the day. With RE:GENERATIONS, we want to musically and visually bridge the so-called generation gap and hopefully create mutual admiration and respect between teens, parents and grands of every culture. Who knows? This project may be a cool catalyst that inspires a new kind of dialogue between the generations. We have no doubts that if Nat were here today, he would embrace all of the artists on this record as well as the ones we were unable to get next to. He would want to produce them and encourage them to leave their own indelible mark on the cultural landscape. And as a bona fide music lover, Dad would buy their music and be a loyal fan."
"As I reflect on the last two years of my life and how RE:GENERATIONS came to be, I can only draw the conclusion that there is a bigger hand at work that brought me to this point in time," says RE:GENERATIONS Co-Executive Producer, Michaelangelo L'Acqua. "To say that I've created a record would be an understatement. This project was like having a child teaching me unconditional love, devotion and patience that has transformed me forever. Walking alongside Nat King Cole, one of my greatest idols, has inspired me to believe that there are no walls too high to climb and no goals too bright to achieve. This project has allowed me to once again see why I devoted my life to music. For the love it gives me, for the expression I can offer to the world and for the happiness it can bring to those that hear it. It's these truths that I take forth in my life -- never to forget them again. These truths will be my song and I will be a richer man in life. Thank you, Nat."
Says Natalie Cole, "I just love, love, love the mix that will.i.am put on 'Straighten Up and Fly Right.' It's so very cool and Dad would get quite the kick from this. What a great feeling it was to have worked with both will and Dad at the same time! It doesn't get much better and this entire album is so amazing."
To launch RE:GENERATIONS, Capitol/EMI has commissioned an original Cole-inspired mural by the gifted international muralist/graffiti artist, Man One, for Capitol's historic Hollywood lot. Assisted by two students from The HeArt Project, a local mentoring program (http://www.theheartproject.org/), Man One completed the impressive mural this week which powerfully depicts Nat King Cole as a ubiquitous force who transcends the ages.
"Creating artwork for this project, RE:GENERATIONS, is quite an honor," says Man One. "I'm flattered to have been selected as one of the artists to give visual life to this new album. Nat King Cole was not only a great musician, but a true role model who challenged the system and fought for what was right and just. How fitting that this album drops precisely at the moment when our country has voted an African American man into office. If it weren't for men like Nat King Cole, this dream may have never become a reality. I hope my artwork does justice to the music of this man as interpreted by some of today's hottest musicians in this project."
Original Cole-inspired visual artworks have been created for the unique package design. Man One, Ritzy Periwinkle, and Gustavo Alberto Garcia Vaca expand the audio concept of RE:GENERATIONS into a vibrant galaxy of new images that engage the senses. Sage, a collage artist and the eldest of Cole's six grandsons, generated the imaginative cover image for the project, which, along with the involvement of other members of the Cole Family, further extends the significance of RE:GENERATIONS.
Visual artist and writer Gustavo Alberto Garcia Vaca says, "As I began to digitally re-visualize classic photographs of Nat while listening to the regenerated music by the various artists on the album, it became clearer to me that Nat's essence shines through all of our musical and visual works -- his essence of tranquility, equality, humor, humility and joy."
"It was truly an honor to be invited to share in the King Cole legacy," say TV On The Radio. "His presence in music is so ubiquitous at this point that we almost take it for granted. Nat King Cole has become such an integral part of the American music fabric it is difficult to imagine a time when such classic songs and such a classic voice did not exist. We suppose that difficulty, that refusal to admit to a finite relevance to human hearts and minds is what inspires us to deem something 'timeless'."
"This was an amazing chance to work with such an incredible vocalist," says Cut Chemist. "Nat King Cole's voice sounds great with any and every style of music. I've never had this much fun doing a remix before. It was an honor and a pleasure to work with the best."
Says Amp Fiddler, "I thought about making a mix that would be smooth and modern at the same time, knowing how suave and cool Nat was. I had so much fun making this mix and have been a fan for years, so it is an honor for me to be involved."
"We have so much respect and admiration for Nat King Cole and his music that we were honored when we were asked to participate in this project," says Didi Gutman of Brazilian Girls. "The tune we chose, 'El Choclo,' comes from a record he did in Spanish that includes rancheras, tangos, ballads and other styles of Latin American music. I have it in my collection. I'm from Argentina and I'm a huge fan of tango music, old and new. I love his version of this classic. I find his vocals extremely charming, and his piano playing delightful."
Says Souldiggaz, "RE:GENERATIONS portrays the mending of two great dimensions of music. It's an example of how dope music never playz out ... and it gives me a chance to do something new and different ... good music inspires, the rest retires."
"As fans, we feel it's an honor to be placed on this record with such a legend whose music is timeless," adds Izza Kizza of his collaboration with Souldiggaz. "Nat King Cole represents the music that diggs in ya soul, which is our everyday slogan."
RE:GENERATIONS celebrates a universal love of music, the one language that brings us all together and honors the multifaceted and pioneering legacy of Nat King Cole. This inspired congregation of audio and visual art acknowledges the timeless appeal of Cole's catalog. From its invention to its re-invention, from each generation to the next, Cole's music is always fresh and innovative.
"What an honor and a privilege it was for us to work with one of the greatest musicians in jazz history!," say Bitter:Sweet. "So many of the influences in our music come directly out of that era, so it was really exciting for us to be able to look so closely into those precious and dreamy files. It's so important to find ways to introduce the younger generation to the beauty of such classics, and when we can blend the electronic sounds of a band like ours with his warm velvety vocals, horns and string lines, it really turns us on! We picked the song 'More and More of Your Amour' for its playfulness and romanticism. We are all about that! The most fun was being able to exchange a few notes with Nat himself. We hope he would've liked it."
For more information and to view an introduction to RE:GENERATIONS, please visit Nat King Cole's official Website: http://www.natkingcole.com/.
NAT KING COLE RE:GENERATIONS (CD, Digital Album, Vinyl LP) (not final track sequence)
TRACK FEATURING
1. Lush Life Cee-Lo
2. Straighten Up and Fly Right will.i.am & Natalie Cole
3. Day In Day Out Cut Chemist
4. Brazilian Love Song Michaelangelo L'Acqua & Bebel Gilberto
5. The Game of Love Nas & Salaam Remi
6. Walkin' My Baby Back Home The Roots
7. Hit That Jive, Jack Souldiggaz & Izza Kizza
8. Calypso Blues Stephen & Damian Marley
9. More and More of Your Amour Bitter:Sweet
10. El Choclo Brazilian Girls
11. Pick-up Just Blaze
12. Anytime Anyday Anywhere Amp Fiddler
13. Nature Boy TV On The Radio
Source: Capitol/EMI
CONTACT: Jennifer Ballantyne of EMI Music Marketing, +1-323-871-5494, jennifer.ballantyne@emicap.com
Web site: http://www.capitolrecords.com/ http://www.natkingcole.com/ http://www.theheartproject.org/
BREAKING NEWS: MC Breed Died Today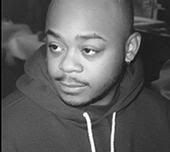 MC Breed has passed away today (November 22) in Atlanta, Georgia.
As Kulture News previously reported back in September MC Breed reportedly fell down and was unconscious Friday (September 5) on an ATL street basketball court. It was later announced that he suffered from Kidney Failure.
"He's no longer with us," a friend confirmed to AllHipHop.com, who shall remain anonymous. "We are in the process of putting together a benefit concert, hopefully at Saint Andrews to raise money for a funeral," the source said
Kulture News would like to thank MC Breed for all the years he has provided music and we would like to send our condolences to his fam, colleagues, friends and all his loyal fans.
The Roots Survive Bus Crash
This will be their final time on the road for when they return they will get a gig of a lifetime. They will be the new house band for the Late Show. Right now the show is hosted by Conan O'brien and the band is Max Wienberg and the Max Wienberg Seven.
In March 2009 Jimmy Fallon Will replace Conan and The Roots will replace Max. Its been said that O' Brien is going to take over Jay Leno's position on the Tonight Show.
In an effort to promote their new collaboration, Fallon and The Roots went to Philadelphia's Fishtown section where they filmed a new video at the Kung Fu Necktie.
In related news The Roots were involved a near fatal accident when their tour bus crashed while traveling in Paris, France last night (November 19).
?uestlove, the groups drummer dropped his accounts of the incident on OkayPlayer.com, which is also a site he co-founded.
"In reality the crash was all of about 7 seconds," Quest said on the site. "But to do a 360 on the highway and end up ramped up (the van that crashed into ours was UNDER our double decker bus) in the air....is....well...a frigging miracle." he said after it was over "My first thought was not move a f*cking inch," he continued. "I always had fear that we would fall off a cliff while in high mountain traveling like Denver or Switzerland. I couldn't tell where gravity began and ended. I just wanted someone to calmly tell me the weight of my body was NOT going to push us down a mountainside. Then I wanted assurance that the bus was NOT going to explode." Realization of survival from the accident he said "I just couldn't believe it. I mean...how in the hell did we experience this," he added. "Dog we are soooo alive right now. And yes we went through all that sh*t people go through when they go through accidents. Dazed. Amazed. Grateful. Laughing?"
He also stated that the band is not sure if they will be able to make all the scheduled dates saying "As for the future? If we make it to our slot on the "Glow in the Dark" tour in Paris that too will be a miracle," he said. "Til then just wanna let everyone know that we are happy to be alive. And not in that TV cliche way....but man.....that was divine intervention. We are so grateful for this outcome."
Shows Left on Euro tour
11/21/2008-Lille, France-@Roots perform @ Aeronef
11/23/2008-Copenhagen, Denmark-@ Vega
11/24/2008-Stockholm, Sweden-@ Berns
11/26/2008-Hamburg, Germany-@ Docks
11/27/2008-Berlin< Germany-@ Columbiahalle
11/28/2008-Warsaw, Poland-@ Arena Ursynon
12/1/2008-Nottingham, UK-@ Rock City
12/2/2008-Manchester, UK-@ Academy
12/3/2008-Bristol, UK-@ Academy
12/5/2008-London, UK-@ The Forum
12/6/2008-London, UK-@ The Forum
12/7/2008-Brussels, Belgium-@ Ancienne Belgique
12/9/2008-Amsterdam-@ Paradiso
12/10/2008-Amsterdam-@ Paradiso
50 Cent to Star in Brit Gangsta Flick
11/20/08
50 Cent (born Curtis Jackson) has been signed on to star in the up and coming indie thriller film from the UK,Dead Man Running. The movie will be directed by the same man who was behind the video game Grand Theft Auto 2.z
According to Billboard, 50 plays a loan shark. 50's character commands an ex-convict who is trying to live a honest life 24 hrs to come up with $150,000 that he owes. The story travels throughout East London's dog tracks and Manchester's underground drug world in order to try and collect the sum. Written & Directed by Alex de Rakoff, the flick also star Brenda Blethyn, Tamer Hassan, Danny Dyer and Monet Mazur.
The film is listed on IMDB as "filming". At this time no release date has been announced.
In related news, Fif will be be working with actors Mickey Rourke and Jason Statham in the remake of Babluani's Sundance-winning French version called 13 Tzameti.
The story evolves around a man who steals a valuable package of unknown contents. The two films are expected to be released 2009.
50's new album, Before I Self-Destruct, has been pushed back and is set to drop early 2009.
1 Year later Joe Budden Talks Beef with Saigon and others
11/20/08
Joe Budden can't seem to stop beefin. The rapper has or had? problems with everybody from Game to Jay-Z and anybody in between who wanted it. Budden has exchanged lyrical shots left and right in the past but at the present Joe does not want to have anymore issues, and wants to settle with any one he does have beef with.
In a recent interview with Ballerstatus, Joe discussed each of his possibly potential or former foes.
Joe Budden On Prodigy & Glasses Malone
BallerStatus.com: You might hate me for this, but Joe, it's part of my job. Beefs, I don't wanna touch on this, but I have to. Saigon, Prodigy ... you heard what happened to Prodigy yesterday right?
Joe Budden: I don't know what happened.
BallerStatus.com: Well he almost died in prison yesterday.
Joe Budden: Yeah but that doesn't say anything. I heard that I mean. I feel annoyed talking about it. I mean ... I don't have any information on it. How did he almost die?
BallerStatus.com: Supposedly the warden was providing him with the wrong prescription. So I guess he was taking the wrong medication. N.O.R.E. was talking about getting the hip-hop police to fix the situation for the way he's been getting treated in jail, but ... What happened with you and Glasses Malone? How did that take place?
Joe Budden: Nothing. Nothing happened between me and Glasses Malone. Uh, misunderstanding.
BallerStatus.com: You put him on blast on the radio. It looked like you were a little upset.
Joe Budden: No, it wasn't about Glasses Malone. It was more so ... my point at the radio station was Akon was doing records with everybody, and Glasses Malone being one of them. Around the same time I said his name, I said he's doing records with a bunch of wack n****s. So I mean of course I could see how he would interpret that. You know, me and him eventually got on the phone. Glasses, he's a real stand up guy. I have no issue with him at all.
Joe On Saigon & Jay-Z
BallerStatus.com: A lot of rappers, they feel like you have a tendency of saying slick sh**, like subliminals on a record, but then when they approach you about it, you say it wasn't a shot, it was witty lyricism. Do you feel these rappers are taking your lyrics out of context?
Joe Budden: I've heard that as well. Honestly I don't think I take so many subliminals at people. When I dissed Prodigy, it was the day I dissed Prodigy. For the Saigon sh**, I didn't intend for that to exist.
BallerStatus.com: Saigon said he'd smack the earth, wind and fire out of you?
Joe Budden: I mean what is he suppose to say? What is he suppose to say? I mean, I understand. I play devil's advocate a lot. I didn't mean for that to be a diss. Anytime I diss somebody ... even when I sent those bars to Jay-Z, how subliminal could that be? Like I don't do subliminal like that.
BallerStatus.com: So let's revert back time a little bit. When "Talk to Em" came out, if Jay had came back with a response, would you battle Jay head to head, even though you said he's your favorite rapper?
Joe Budden: He's one of my favorite rappers, but hell yeah. You're talking to somebody that would go head to head with anybody, win or lose. Even in a lost, not saying I would lose, because nobody plans on losing. But even in a lost, you take some information, and you learn something. So there's not anybody in the universe that I wouldn't go toe to toe with, and that's not being cocky.
BallerStatus.com: So let's say Saigon, and Prodigy wanted to do a collabo with you, would you accept it without any problem?
Joe Budden: Yeah definitely. I just reached out to Saigon not too long ago through a mutual friend. I tried to see if he wanted to get on one of the Slaughterhouse joints.
Currently Joe's Mixtape Halfway House is available now.
'Suge' Knight to head back to Prison?
11/18/08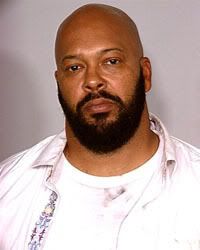 The mogul was arrested Aug 27, 2008 in Las Vegas for assaulting a woman.
LAS VEGAS - Marion "Suge" Knight is facing criminal charges in Las Vegas, stemming from an incident in which police found the hip hop mogul allegedly beating his girlfriend just off a busy thoroughfare.
Knight is charged with two counts of felony drug possession and one count of misdemeanor battery, according to a criminal complaint filed Tuesday in Las Vegas Justice Court.
The complaint filed by the Clark County district attorney's office accuses Knight of striking a woman identified as Melissa Isaac. Police say they arrested Knight in August after they saw the founder of bankrupt Death Row Records beating the woman while brandishing a knife in a parking lot near the Las Vegas Strip.
Authorities said the woman wasn't stabbed, but was treated at a hospital for injuries. The complaint says Knight was carrying Ecstasy and hydrocodone when they arrested him. Knight was later released after posting $19,000 bail.
Defense attorney Richard Schonfeld said Knight planned to enter a not guilty plea at his arraignment Dec. 16.
"We're going to vigorously defend him against these charges," Schonfeld said.
Knight could face mandatory probation and up to four years in a Nevada state prison on each of the drug charges. He could be sentenced to up to six months in jail on the battery charge.
Knight's Death Row Records was known for releasing seminal gangster rap albums by Tupac Shakur, Dr. Dre and Snoop Dogg. It sold tens of millions of albums in the heyday of early 1990s rap.
In 2006, a federal judge ordered a bankruptcy trustee takeover of Death Row Records, saying the label had undergone gross mismanagement. Knight's decision to file for bankruptcy protection staved off a move by the court to appoint someone to take control of the record label and his assets.
In related news, Knight filed for bankruptcy this summer and the one-time mega label Death Row was sold at auction in July for $24 million. Global Music Group may file a lawsuit against the former Death Row owner over master recording that are said to be still in Suge's possession.
Wu-Tang on The Move
11/18/08
The Wu- Tang clan is set to go on tour with 26 stops on this coast to coast trip. Always a good show see if they are some where near you.
November 2008
29 - Portland, OR - Roseland Ballroom
30 - Boise, ID - Knitting Factory
December 2008
1 - Seattle, WA - Showbox SoDo
3 - San Francisco, CA - The Grand Ballroom at the Regency Center
4 - West Hollywood, CA - House of Blues
5 - San Diego, CA - House of Blues
6 - Las Vegas, NV - House of Blues
7 - Tempe, AZ - Marquee
8 - Tucson, AZ - Rialto Theatre
10 - Denver, CO - Ogden Theatre
14 - Chicago, IL - House of Blues
15 - Minneapolis, MN - First Avenue
17 - Cleveland, OH - House of Blues
January 2009
1 - Washington, DC - 9:30 Club
2 - Providence, RI - Lupo's
4 - Burlington, VT - Higher Ground
7 - Norfolk, VA - The Norva
Full and Updated Schedule available at http://www.wutang-corp.com/news/article.php?id=785
In related news RZA will be starring in the remake of the 1985 movie The Last Dragon Starring Samuel L Jackson. The Clan is also coming out with a DVD titled Wu: The Story of the Wu-Tang Clan. Also Fila is dropping the new Wu Boot Design shown below.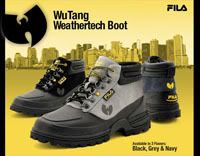 You can still purchase last years model @ WuTangClan.com or on Ebay.
Kanye at it again Attacking Paparazzi, Drops a Blog to Justify Attacks
11/16/08
Kanye West lets it be known how he feels in his most recent situation with the Paparazzi via his blog yesterday (November 15).
In a lengthy entry, West, who was momentarily detained in London Friday morning (November 14), explained his side of the confrontation outside a nightclub in Newcastle in the United Kingdom.
I AM PROTECTING MY PERSONAL SPACE SINCE THERE ARE NO LAWS TO PROTECT THAT FOR ME.
I PUT MY HAND UP TO THE CAMERA IN SELF DEFENSE!
HERE'S WHAT HAPPENED...WHEN I LEFT THE CLUB, I WAS ENCOUNTERED BY A THIRSTY PAPARAZZI AS USUAL. HE FELT HE HAD MORE RIGHTS TO MY SPACE THAN ME, SO I PUT MY HAND UP TO PREVENT HIM FROM TAKING MY IMAGE. I DIDN'T ASSAULT HIM BUT MERELY PUTTING MY HAND UP TO COVER HIS LENS. MY SECURITY YELLED, "GET THE CAMERA OFF HIM." I GUESS IN ALL THE COMMOTION THE CAMERA SCRAPED HIS NOSE.
THREE HOURS LATER I GET A KNOCK AT MY HOTEL DOOR. THERE WERE FIVE POLICE OFFICERS IN FRONT OF MY ROOM AND I HAD NO IDEA WHY. I HAD MY SECURITY GO SPEAK WITH THEM. THE COPS WERE VERY CORDIAL BUT TOLD ME THEY HAD TO ARREST ME BECAUSE A COMPLAINT WAS FILED. THAT WAS THE BOGUS PART. THEY PLACED ME IN HANDCUFFS AND DROVE ME TO THE STATION. THEY SPOKE ABOUT HOW THIS WAS OBVIOUSLY A PUBLICITY STUNT BY THE PHOTOGRAPHER BUT THEY STILL HAD TO GO THOUGH THE MOTIONS. WHEN I GOT BACK TO THE HOTEL THERE WERE PAPARAZZI HANGING OVER THE BRIDGE ABOVE THE HOTEL TRYING TO GET A SHOT OF ME GETTING OUT THE POLICE VAN. EVEN THOUGH I WASN'T CHARGED, THE DAMAGE WAS DONE. SURE ENOUGH THE NEXT MORNING, PLASTERED ACROSS EVERY MEDIA OUTLET... KANYE GETS ARRESTED. IT DIDN'T MATTER THAT I WASN'T CHARGED OR THE FACT THAT I HADN'T ASSAULTED ANYONE. ALL THAT MATTERED WAS THAT I WAS ARRESTED.
Full Blog @ Kanye West's Official Blog
Kanye West was later released without charge.
In related news, the same outcome came from the incident at L.A.X where he did actually violently attack and destroy the Papz camera.
DJ Premier to be Cooking up Beats for Royce Da 5'9's new Album
11/11/08
The highly anticipated album Street Hop will hit the streets early 2009 via the rappers own M.I.C. Records label in connection with One Records.
"One Records is proud to be in business with Royce," said the label's owner, Hanley Halem. "He is an amazing talent and we feel that he has yet to reach his peak as an artist. Street Hop is a breath of fresh air, at a time when the industry really needs it and we are anxiously looking forward to releasing it."
The new album will be executive produced by the legendary DJ Premier. Premo also produced Royce's "Boom," on the hit single from Rock City.
Additional production on Street Hop will come courtesy of Nottz, Green Lantern, Carlos Broady, Ski, Kay Gee and Emile.
The album will also feature guest appearances by Bun B, Joe Budden, Joell Ortiz and Crooked I and others.
"I'm happy about my new partnership between M.I.C and One Records, because it's time to ignite the streets," Royce told AllHipHop.com in a statement. "This album will definitely show the world why I'm the one to watch right now. I'm ready to show all these other rappers just how wack they really are."
November 12, Royce sets out on tour with D-12 and Joe Budden during where he will be promoting his recently released Bar Exam 2 and performing tracks from Street Hop.
Royce will also be working with director Rik Cordero to make a Music Video for the album's first single, "Shake This," produced by DJ Premier. Rik Cordero has directed videos for Nas, Jay-Z, Snoop Dogg, Busta Rhymes, The Roots, Q-Tip, Jadakiss, Ghostface Killah, Beanie Sigel, John Legend, Joell Ortiz, Joe Budden, Smif-N-Wessun, Heltah Skeltah, Buckshot as well as others.
"The Slaughter House" featuring Royce, Budden, Ortiz and Crooked I
B.E.T says Farewell to Rap City
11/08/08
"I can't lie. It's sad to say goodbye to 'Rap City,'" said Stephen Hill, BET's Interim President . "It's been the longest running hip-hop show ever and the classic moments are too many to name. The last Biggie interview, the numerous folks that got crazy in the legendary booth, the introduction to the world of so many of today's superstars."
"Rap City" made its debut back in 1989. On October 1, 2008. BET officially canceled Rap City. The show was created by former BET VJ/producer Alvin Jones it was first introduced as competition against Yo! MTV Raps. 50 cent, Busta Rhymes, Lil Wayne, Nas and LL cool J will host a final farewell episode tonight (November 8) at 10 p.m. est.
The network confirmed it will replace "Rap City" with a new show, "The Deal," starting Nov. 10
The Civil Disobedience project
11/07/08
Letting graffiti artist legally display their artwork is always a challenge. The ASU Herberger College of the Arts is giving them a chance with the Civil Disobedience project. This event will headline KRS-One speaking at a panel discussion. It will also feature local and nationally renowned graffiti artists will give a new look to the alley at McDowell Rd. between 18th and 19th streets in Phenix, Arizona. "The Civil Disobedience Project provides the public with an opportunity to support and engage artists who use graffiti to effect positive change." said Rick Mook a professor at ASU.
There are many places like this popping up all over the world. Places giving artist space in a different medium. A good example and a well known legal wall is the Graffiti Hall Of Fame located at 106 and Park in Spanish Harlem. Here are some other's to check out.
CIA Wall - Denver, Colorado alley off 9th Ave. between Sherman and Grant
Venice Wall - Venice Beach, California
Writers Block - ( permit needed) Market street San Diego, California
Free Expression Tunnel - Located on the NSCU campus Dan Allen drive Raleigh, North Carolina
American Tent - East Palmer street Indianapolis, Indiana
Gainesville Legal Wall - SW 37th ave. Gainesville, Florida
Rochester Free Walls - Goodman street N. Rochester, New York behind Village Gate
Desi Hall of Fame - Brückenstraße, Innenstadtgürtel West/Nord/Ost, Nürnberg, Germany
Neuss Hall of Fame - Konrad-Adenauer-Ring, Neuss, Germany
Tech Wall - Laurier Ave W, Ottawa, ON, Canada
also check Legal-Walls.net
Weezy Juggling Court Cases
11/07/08
Lil Wayne (born Dwayne Carter jr.) appeared in court yesterday (November 6) for a Federal Felony case deriving from January 2008. As Kulture News previously reported Lil Wayne was arrested January 22, 2008 for Weapons and Drug possession after DEA searched his tour bus. Authorities found 4 ounces of marijuana, an ounce of cocaine, 41 grams of Ecstasy and a .40 caliber pistol registered under Weezy's name. Kulture News has been in direct contact with Lil Wayne's attorney James Tilson. The next court date Weezy is also scheduled to appear on Friday November 21.
He also faces charges in New York. After a performance at the Beacon Theater weezys' tour bus was pulled over around 11:30. When officers said they smelled marijuana they proceeded to search the bus. They discovered marijuana and a hand gun, although the handgun was not in Weezy's name. Wayne's attorney representing him in that case, Stacey Richman wants all charges dropped stating that the police falsely stated that they smelled marijuana. In the New York case he has pleaded not guilty and is currently out on $70,000 bail. Weezy is to appear back in New York court sometime in December on those charges
Keep updated while Kulture News follows these cases and will be there to report on the outcomes and developments.
The Curtis " 50 cent " Jackson Memorial Garden
11/06/08
In collaboration with The New York Restoration Foundation, Bette Midler, and a donation of 150,00 dollars from the G- Unity Foundation. . The Curtis "50 Cent" Jackson Memorial Garden's construction will get under way. "We are looking forward to witnessing the transformation of Baisley Park into a useable green space for kids in the neighborhood. We are so excited to support NYRP in giving this community a garden it can be proud of," says Nina Biggar of The G-Unity Foundation. The garden will be located at 117 165th street in Queens, New York. This area is known to some as south side Jamaica. The gardens features include a community area, flowers, trees, and a vegetable garden. With a size of 15,120 sq. feet the area will have plenty of room for children to play and for the community to gather.
Fif came up to the podium where he acknowledged the crowd and pointed out some familiar faces. "It's exciting ... and it was an opportunity for me to do something for the actual kids in the community," 50 said."We're gonna make it happen the way we been making it happen"This a helluva opportunity, for me to collaborate with Bette," The crowd applauded as Fifty announced some of his future projects. One being Fifty's 1st annual 40's . Dedicated to the south Jamaican projects in Queens. Stay up to date on all hip hop related news at Kulture News
Mos Def a Fugitive?
11/05/08
Last Thursday (October 30) Las Vegas authorities issued an arrest warrant Mos Def (born Dante Terrell Smith) for allegedly attacking a photographer and taking his equipment and leaving the scene. His charges are felony robbery and malicious destruction of private property.
The story is that while attending the MAGIC (Men's Apparel and Garment Industry Convention) last August that Mos Def went crazy on some paparazzi and grabbed it from around his neck violently pulling of dude. He then slammed the camera to the ground and then took it, leaving the scene.
After the incident it has been documented that the pap got a cut on his left hand.
Last reports of Mos he was on the International Rock The Bells Tour in Europe.
Kelis Caught Out There?
11/03/08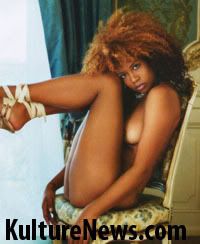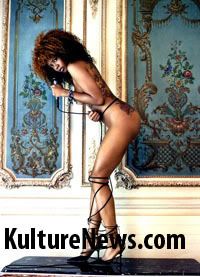 According to Hip Hop Weekly magazine, a rapper who goes by Infrared or Infa-Red who is a active member of Ruff Ryderz claims that he had an 'encounter' with Kelis. 50 Cent said a few months back that someone tried to sell him the copy but he wasn't interested. Reports now say that Wendy Williams has a copy of the video. Infra-Red is said to be on camera saying, "Handle your mother fucking business. I got your bitch here, she getting naked."
He also stated in the interview "I knew Kelis in the hip hop world, and from clubbin', hanging out. "I heard that (sex tape) rumor. I don't know (if she was married). She wasn't wearing a wedding ring."
Infra-Red is featured on Jada Kiss' 2001 Solo Debut Album Kiss Tha Game Goodbye on Track 16 "It's Time I See You".
Kulture News has tried to get ahold of Infra-Red but he has not signed in his Myspace since October 25 as of press time.
Infra-Red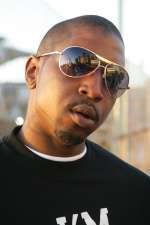 Listen to Infra-Red's verse here by clicking play on Track 16 http://www.buy.com/prod/kiss-tha-game-goodbye-explicit-version-/q/loc/109/60467761.html
"Caught Out There" Music Video
Def Jam VP Commits Suicide
11/03/08
Shakir "Shake" Stewart Senior VP of Island Def Jam Music Group and executive VP of Def Jam has committed suicide. He was found in his Merietta, GA home with a self inflected gun shot wound to the head. The 34 year old Stewart was later pronounced dead at Kennestone hospital.
Fiancée , Michelle Rivers released a statement on behalf of family and friends. "Over the past several weeks, Shakir's behavior was inconsistent with the man we all know and love," Shakir was in deep pain and largely suffering in silence." Def jam relased a statement saying "Shakir was an amazing man, in every sense of the word. A truly incredible friend and father who was an inspiration to not only our artists and employees, but to his family and the many people who had the privilege of counting him as a friend. Our hearts and prayers go out to his family at this very difficult time."
Stewart an Oakland, California native and graduate from Morehouse college. Stewart started working in the industry in 1996 at the Hitco publishing company. Stewart eventually moved to Def Jam in 2004 then eventually taking Jay Z's position when he resigned to start his own label. While at Def Jam Stewart signed artists such as Ciara, Rick Ross, Young Jeezy, Beyoncé Knowles and Karina Pasian.
Kulture News would like to send its condolences to the family and everyone affected by this tragedy.